March 29th, 2016 — Gwen Minor
Listen to my podcast on Mycenae: Episode #36: The Mycenaean World
MYCENAE
After all these years of reading Homer, Aeschylus, Sophocles, and Euripides, and marveling at Heinrich Schliemann's fabulous discoveries, I finally made it to the Lion Gate at Mycenae! This place holds special meaning for me because the story of the Trojan War is my life's focus, and its richness and depth continue to lead me in new directions.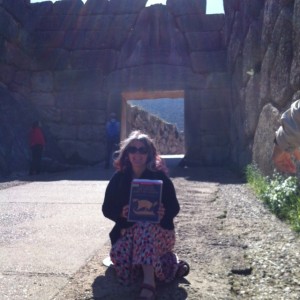 The Lion Gate is the main entrance to the citadel of Mycenae, which is on the hilltop behind me in this photo. This is where Agamemnon, Menelaus, Achilles, Odysseus, Ajax, and the rest of the Greek warriors met to discuss their plan to get Helen back from the Trojans, and where Clytemnestra watched for the signal fires for her husband's return from the war.
Agamemnon had no idea what awaited him, but Cassandra, princess of Troy and war prize to the king, wailed unabated as she was brought in to the palace.
Shown below is the Tomb of Agamemnon, or the Treasury of Atreus, a beehive tholos built around 1250 B.C.: a massive structure. Bees actually inhabit the tomb and you can hear their buzzing hum when you walk inside.  This land is layered in myth and metaphor; every hill and valley, stream and copse tells a story. I still can't believe I am here.
TIRYNS
Before our visit to Mycenae we stopped to tour the fortress ruins of Tiryns. This site is where the term "cyclopean walls" originated, and in Homer's Iliad, its epithet was "mighty-walled Tiryns." Legend claims Hercules ruled here and that the walls were built by the cyclopes. Mycenae controlled the mountain pass into the plain, while Tiryns controlled access by sea.

EPIDAURUS
At the 4th century Theatre at Epidaurus, the first 2 scenes from my Iliad play were performed by some members of our tour group. Considered by scholars to be the best preserved theatre from the ancient world, it is a masterpiece of acoustical engineering and architectural proportions.  Erika, from the audience, receives a copy of the play.